Milk Paint Work Shop
"How To Paint" with Real Milk Paint®
There is a free milk paintwork shop every Thursday 5:00pm at the Redposie™  on 431 McDonough Street, St Charles, MO.
If you would like to attend just fill out the form at the bottom of this page to register for a class.
Bring in a small item to milk paint and we supply everything you need to paint it. Come and learn the basics in mixing, using bonding, top coating with wax to make your furniture really "POP".
Whether You Prefer  Miss Mustard Seed Milk Paint or Real Milk Paint our workshop is for you!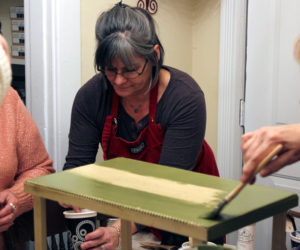 Beginners
If you are interested in learning how to paint furniture with Real Milk Paint, our milk paint workshop offer a fun, risk-free way to "get your feet wet", and a place to get honest answers to your questions about Milk Paint without fear of embarrassment. Your alternatives? Well, you could go to some shops and pay anywhere from $35 to $65 for a class, and learn bad habits that will take forever to undo. You could just pick up a some milk paint and start painting, and risk your hard-earned money on a painting project that turns out horrible. Or, you could spend hours watching videos on how to paint with milk paint, and still not know whether or not the things you've learned are the things you need to know to paint like Redposie.
In short, it's a lot cheaper (and more fun) to learn in our workshop than it would be to learn on your own, and our workshop is for painting real furniture that you bring,  unlike other workshops that would have you pay $35 to $65 to paint a small sample board.
Intermediate/Semi-Professional
If you have been painting furniture for a while you probably already know that there are lots of brands of furniture paint to choose from and some are better than others, well the same goes for milk paint. Here at Redposie we tried other milk paint brands before going with Real Milk Paint to use in our shop. Real Milk Paint consistently gives us the best finish on furniture and cabinets. The milk paint powder mixes easy leaving no color strikes or lumpiness unlike others we tried.
Many who attend our milk paint class paints furniture to sell and we welcome then to come to our class Why? because we want the opportunity show what Real Paint can do and the chance are they will start buying paint from us. We encourage anyone that want to add milk painted furniture to their painted furniture business to attend our class.
What you can expect to learn in our Milk Paint WorkShop
Wood preparation
Base stain- How to Mix & Apply

 How to prepare Milk Paint

Apply the first coat of Milk Paint
apply the second coat of Milk Paint
Finishing
Here is a list of items to give you some ideas on what to bring to the Milk Paint Workshop.
Only item per person.
Picture frame
Small table
Small child's chair
Small wall mounted shelf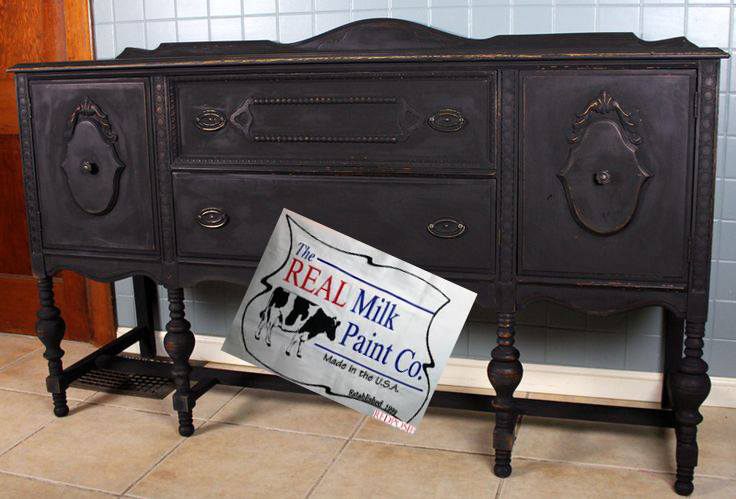 Why take a milk paint workshop before you try using milk paint because milk paint is much different from your ordinary paint. Real milk paint comes in a powered form that you have to mix correctly with water. The success of painting with milk paint starts with knowing how to mix it, that is one thing we teach you do along with:
> Learning which top coat to use wax, tung oil and hemp oil
> Class run about hour and half
> Taking our hands on Milk Paint Finishing Workshop will ensure that you acquire a strong knowledge of how to use our Milk Paint products, stains and natural finishing oils
You and a friend, relative or group  are welcome to attend a workshop but everyone has to submit a request via the Milk Paint Class Form.
Workshops every Thursday 5pm at the Redposie™  431 McDonough St Charles MO,  63301.
MILK PAINT WORKSHOP FORM