IOD Erasable Stamping System™
Use IOD Erasable Stamping System™ and change your chalk board on a whim! It's so addicting! IOD's (pat. Pend.)method for erasable stamping is a game changer. Collect IOD Decor Stamps™️ for endless customizations!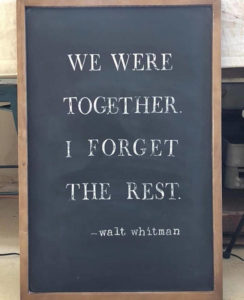 One of the reasons why the IOD Erasable Stamping System™ ( patent pending) is so exciting is because it's bigger than just chalk board art! Our Decor Stamps™ and IOD Erasable Liquid Chalk can be used from any non porous surface! The possibilities are endless ( vintage windows, laminate wood flooring as seen here, chalkboards, vinyl, mirrors and more!) You're able to achieve those beautiful wall pieces you see on Pinterest that have hand lettered word art without spending all the time it takes to learn that art ( I've tried. can NOT DO IT! but am amazed by those that can!) What's more, is that you get to say EXACTLY what YOU want to say in the way that YOU want to say it! We have over 30 IOD Decor Stamps™ scaled beautifully for the IOD Erasable Stamping System™. What's more is knowing you can erase anything at anytime and have a do over takes the pressure off and makes it fun! So, jump in! What do you want to say?