Original Saltwash® 42 oz. (largest size avail.)
$36.00
Free shipping to United States – Enter code freeship at checkout! 
Saltwash ® is a product invented to create a unique weather worn, layered sun and salt air soaked look in just three quick steps. Saltwash ® is made with real sea salt so you will notice it dries quickly and has great adhesion. It can be mixed into any brand, color or finish of paint and is always used as a base coat. When mixed to the desired consistency, Saltwash® can be applied to almost any surface that takes paint. Originally intended for furniture, Saltwash® can also give a unique look to walls, flooring, metal, glass, fabric and even plastic.
Saltwash ® is a low voc product and all of the ingredients are considered safe in a normal working environment. We at Saltwash®, LLC are very conscientious of safety, so we recommend to always take appropriate safety precautions. Due to the fine composition of Saltwash®, we suggest wearing proper respiratory and eye protection when mixing and sanding. Saltwash® is manufactured in the U.S.A.
 For the best use the Original SALTWASH® made with salt wash ingredients
COMMONLY USED PAINT TYPES WITH SUGGESTED SALTWASH® RATIOS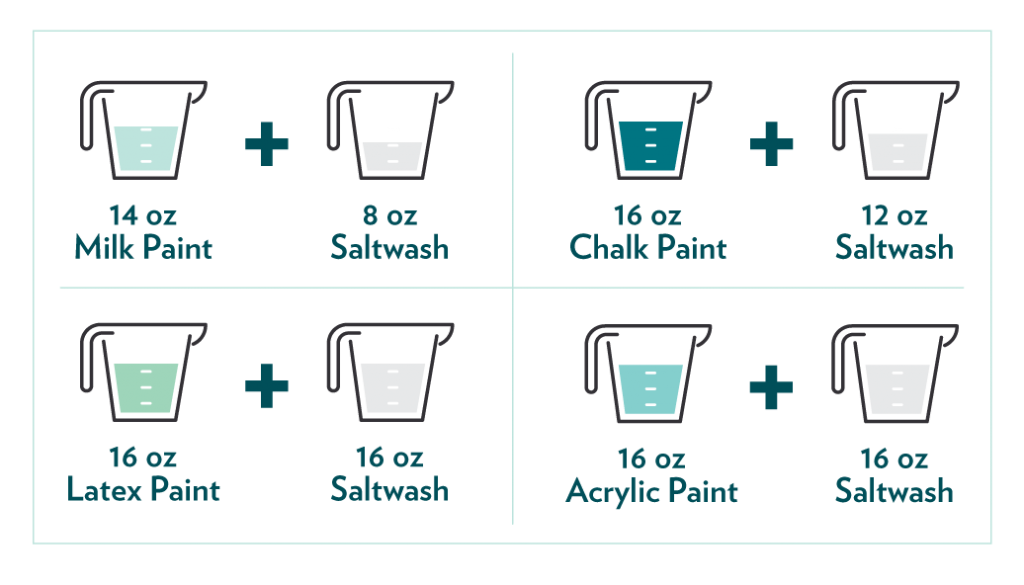 If you have any questions about saltwash or how to use we will be happy to help. You can call 314 323-1742
Try our 4-0z sample size
The 4-oz Splash! Can is the perfect introduction to Saltwash® powder!
*Once mixed, the 4-oz size will cover approximately 3-5 square feet of surface.