To Our Maison Blanche Customers
I want to thank you for purchasing Maison Blanche paints and waxes from Redposie. I'm sorry to say that Redposie will not stock this brand after current inventory has been depleted. Maison Blanche products has been phenomenal to have around; still, Redposie needs to offer other paint products that are enjoyed by many of you.
I have canceled the current exclusivity distributor agreement with Maison Blanche Paint Company in order that Redposie can be free to offer a larger selection of products to you that she will be getting direct from the manufactures. I have already selected one new line of CHALK-STYLE paint from "Belle Craie" Paint Company to replace the Maison. I have the paint in stock now at Redposie. I started testing Belle Craie paints back in July of this year. as you can see I planed to make a switch to another brand of chalk Style paint. After painting with Belle Craie I was convinced it was the brand to go with. Belle Craie will make a wonderful addition to our other lines of paints we have in stock and it will cost $6 less per can then Maison Blanche's. I'm in negotiation with a manufacture that can provide us with colored waxes specially formulated for chalk painted furniture. I finished up testing it last week, the wax is as good or better than any wax we have sold.
I know that a lot of you liked Maison as much I like using it; but I hope you will stay with Redposie as your go-to-place for cabinet & furniture paint… I assure you I will continue to provide you with good service and many fine products to paint with. In closing I want you know that you are the very best customers and Redposie is here for all your painting needs but if you feel you can't do without Maison Blanche Paint see their website to find a retailer near you.
Laurie Stephens
Redposie President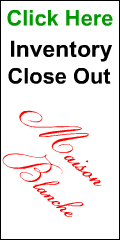 Masion Blanche Inventory Close out: http://alturl.com/s6ph9