ST. LOUIS FURNITURE PAINTING WORKSHOPS | CLASS
Workshops every Thursday 5pm at the Redposie™  431 McDonough St Charles MO,  63301.
Welcome to Redposie's Free Chalk Style paint workshop where it's 100% free, but registration is required. Spaces are awarded based on a first-come -first-served. You  obring your own piece to paint, but it must be no bigger than 2' x 2' (a small stool, picture frame or shelf work well). We provide all of the paint/wax and supplies. You will be painting with one of the best paints made with chalk called Belle Craie It's the world's premium interior furniture paint with colors inspired by a lifetime of travel.
Class size is limited so be sure to register now.  Use the form at the end of this page to register.
Anyone who wants to learn how to up-cycle furniture will love this workshop. By the end of workshop you will have the know-how and confidence to try a larger project on your own. In no time you will be painting like a Pro your pieces will be ready to be displayed on Pinterest.
What You Can Expect To Learn In our Free
 

Chalk Style Paint Workshops.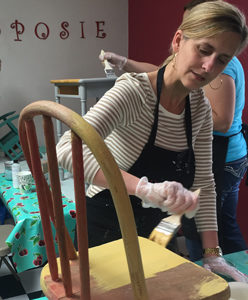 How to prep your furniture before painting But not have to sand or strip it.

Basic of painting with Chalk Style Paint on wood glass & metal.
There are 3 colors of Belle Craie Glaze Dark, Light and Translucent. Student will lean how to use then to add depth and color.
How to create a antique painted finish using Belle Craie Paints.
The art of distressing & aging painted furniture.
 The knowledge and tips that you will receive in our Chalk Style Paint Workshops will help save you time, money and frustration. Don't be fooled the Redposie Free Chalk Style Paint Workshops are as good or better than those workshops costing $65 or more.
Workshops every Thursday 5pm at the Redposie™  431 McDonough St Charles MO,  63301.
Call 314 504-6385 to register
Chalk Style Paint Workshops Form